Race 3 Movie Review, Rating, Story, Cast and Crew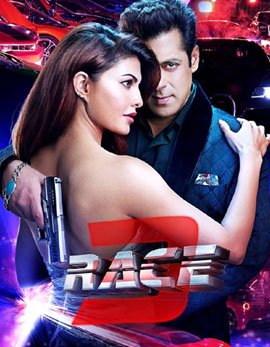 Rating:

Director:

Remo D'Souza

Cast:

Anil Kapoor, Salman Khan, Jacqueline Fernandez, Bobby Deol, Daisy Shah, Saqib Saleem

Banner:

Salman Khan Films, Tips Films

Producer:

Ramesh S. Taurani, Salma Khan

Music:

Salim Sulaiman

Release Dt :

Jun, 15 2018
Story
Race 3 is all about the family of Shamsher Singh (Anil Kapoor). There are some internal disputes between Shamsher's step son Sikandar (Salman Khan) and twin children Sanjana (Daisy Shah) & Suraj (Saqib Saleem). It is during this time Yash (Bobby Deol) makes his presence as Sikandar's body guard and Jessica (Jacqueline Fernandez) as his girlfriend. Going with the conflicts, Shamsher takes up a deal and the rest of Race 3 is all about what happens next. Watch the film to know about the entire story.
Analysis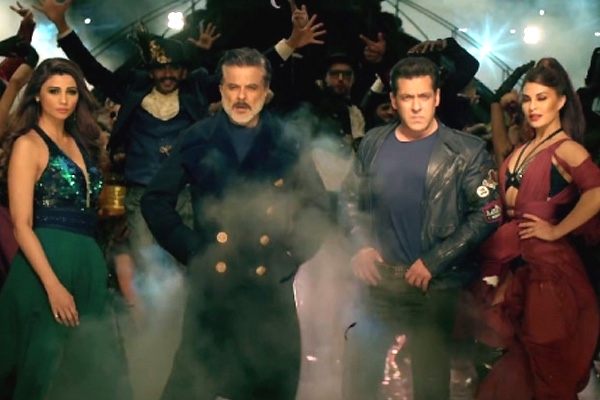 Race 3 looks packed with a bunch of actors all around but it lacks the much needed basic plot. The film's director Remo D'Souza managed to copy the formula of Race with high voltage action stunts and stylish cars, but he missed a strong conflict point. The first half has been so bad and boring that every episode has been predictable. Too many songs turn barriers and they spoil the seriousness of the movie. The entire first half is a boring feast and seems stretched enough.
The second half of Race 3 too misses the expectations by miles and leaves the audience in huge disappointment. The action episodes have been outstanding and are the major highlights of the film. The cinematography has been a treat to watch and the pre-climax episodes will leave the audience confusing. The climax has been pale and the second half of Race 3 is a huge disappointment.
Performance
Salman Khan looks energetic as usual and he tops the show with his performance. He has been stylish enough and makes enough noise in the action episodes. Anil Kapoor has enough prominence during the start and his character dissolves in no time and lacks interest. Jacqueline Fernandez & Daisy Shah have been stunning and super hot. They are a treat for front seaters. Jacqueline Fernandez & Daisy Shah even performed some stunts in the movie. Bobby Deol is a misfire and his character has been so badly written. All the other actors failed to make an impact.
Race 3 lacks interesting plot because of which everything turned out to be a huge misfire. Poor screenplay and dialogues make no impact despite of top class performers. Too many songs spoil the mood and they have not been captured well. The cinematography is the major savior of Race 3. The production values have been grand and lavish. Remo D'Souza fails completely and the audience will be left in deep shock with the stuff of the film.
Final Word
Race 3 is majorly disappointing and will even disappoint Salman Khan's hardcore fans. Call it a skip.
Stills from this movie
Videos & Trailers